Wing Zone wanted a brand experience that communicated the unique qualities of their flavorful food.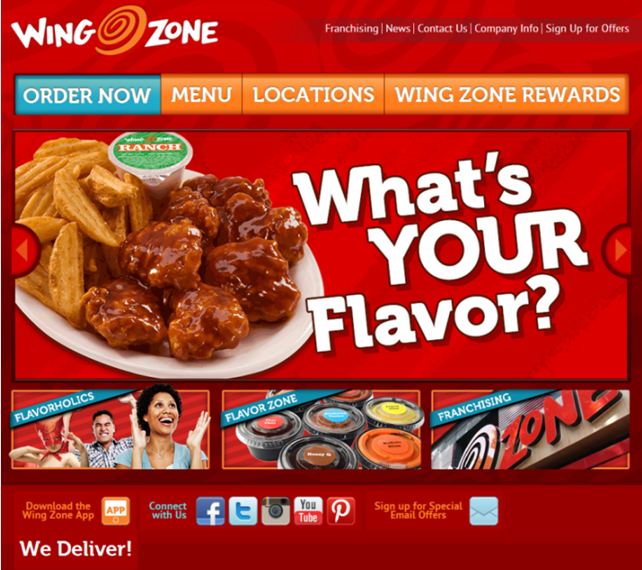 Wing Zone uses brand videos produced by Miller eMedia to sell franchise opportunities to new prospects.
Matt Friedman introduces Wing Zone's brand position to prospective franchisees.
THE CHALLENGE
Wing Zone was started in 1991 when the founders were still undergraduates at the University of Florida. Over the next two decades, Wing Zone grew into a robust regional franchise organization, yet Wing Zone never fully developed a brand experience that communicated the unique qualities of Wing Zone's flavorful food.
Today, the franchise industry is overwhelmingly about "brand." To become an internationally-recognized brand, Wing Zone would need to refocus its core concept and message.
OUR STRATEGY
Using our Brand Story® approach, we identified customer perceptions of the brand as well as the benefits of Wing Zone's food, delivery system and its flavors. The goal was to ensure that the total brand experience connected emotionally to customers with consistent messaging, clear benefits and credible positioning. The core concept identified was FLAVOR. Wing Zone excelled at flavor.
We developed a flavor-focused branding system that touched every element of brand messaging, food concept, graphics, interiors and operations. The company now focuses it messaging on its loyal "Flavorholics®" and applies a Flavor Fuze™ cooking process to its full menu. Wing Zone was a client of my previous agency, Design Coup.
THE RESULTS
The Flavor brand was tested at a new Wing Zone location in the Bahamas. Sales expectations were exceeded by 300 percent. Importantly, the Flavor concept and new branding jump-started new franchise sales both domestically and overseas. The flavor focus is particularly attractive internationally as evidenced by strong international expansion. There are now four outlets throughout Central America, the Middle East, Southeast Asia, and Russia in addition to the US.