After spending 25 years building brands in our Atlanta agency, it got to the point where I could quickly spot which clients would succeed and which would fail.
It didn't matter how big they were or how much money they had. Success came down to one thing:
Did they have a credible brand position?
What is Brand Positioning?
Brand positioning was first articulated in 1971 by David Ogilvy, "The Father of Modern Advertising," when he ran a full-page ad in the New York Times with the headline:
"How to Create Advertising that Sells."
Ogilvy asked the question: "What is the most important decision a business owner must make?"
HIS ANSWER: "How to position your product."
Ogilvy explained that Schweppes would have gotten lost in a sea of competition as a soft drink, but by positioning the product as a mixer, Schweppes became number one in its category.
Same with Dove soap. By positioning Dove as a beauty bar for soft skin, Dove became the number-one beauty soap.
The Battle for Your Mind
Brand positioning got another big boost in 2001 when ad agency veterans, Jack Trout and Al Ries, published the marketing classic: Positioning – The Battle for Your Mind. They explained:
"Positioning is not what you do to a product. Positioning is what you do to the mind of the prospect."
Trout and Ries addressed the biggest issue businesses face when they announced:
"Positioning … comes to grips with the difficult problem of getting heard in our over-communicated society."
In 2001, they had no idea how much "over-communication" today's social media would bring.
In 1973, Fedex changed the way we do business with a bold brand position:
When it absolutely has to be there overnight.
Southwest Airlines exploded from a mere three planes in three cities to number one in market share when they introduced a novel brand position:
No-frills air travel with peanuts fares.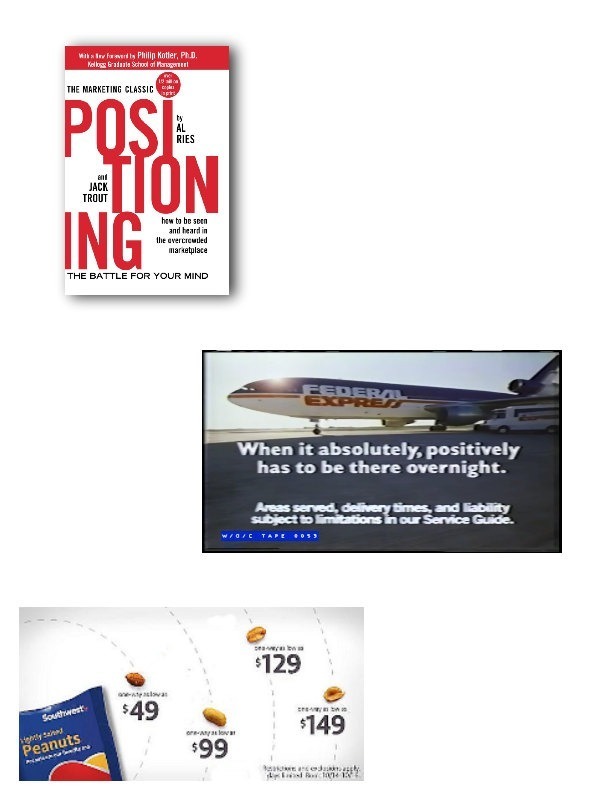 Brand Stories Pay Off
Today, lots of new businesses are succeeding by adopting strong brand positions. Here are some noteworthy examples:
| | |
| --- | --- |
| Company | Brand Position |
| Quip | The iPhone of toothbrushes |
| Warby Parker | Save money on eyeglasses without the storefront. |
| Untuckit | Shirts that look good un-tucked. |
| The Farmer's Dog | Fresh pet food delivered. |
| Bombas Socks | One pair purchased = One pair donated |
These upstart businesses quickly made names for themselves by promoting One Big Idea. This is a Brand Story®. To succeed, the big idea must be unique and solve the customer's problem or need.
This is not easy — but that's why I wrote the book.
Even if you plan to mow lawns (as I show), a brand position can:
separate your brand from the competition and
create a love relationship with your customers.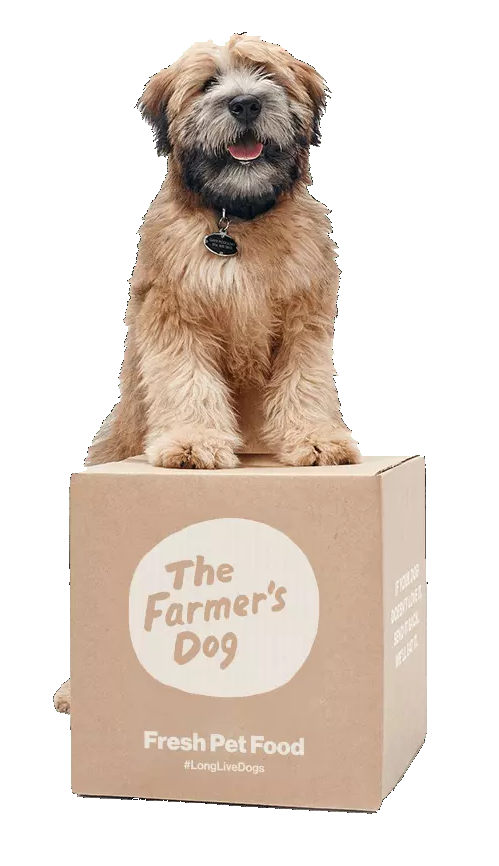 Introducing the Brand Story® method:
I developed Brand Story® to simplify the process. This step-by-step guide shows how to develop a compelling brand without paying an agency tens of thousands of dollars. Now that I'm semi-retired, I'm giving away my proprietary secrets.
To create the Brand Story® method, I reverse-engineered our entire agency process. (Dirty little secret: Most of our bigger clients resisted brand positioning. They couldn't grasp the concept that a brand position is not about them – it's about the customer! But, start-ups loved it because they were desperate to succeed).
The Brand Story® (the big idea) becomes part of everything you do – domain name, trademark, messaging, promotions, brand design, product strategy, social media, networking, non-profit marketing, etc. The book covers it all.
This is a large-format, full-color book ($45.00 on Amazon), but since shoestring startups don't have $45 to spend on a book, I recently converted my big fancy print job into a $9.99 ebook.
How do I read it?
For best results, read Brand Story on an iPad or Android tablet. You can also read the book on a laptop/desktop.
iPad and Android users can read via the GooglePlay app (sign in with your Google account).
iPad/Mac users can use the AppleBooks app (sign in from your iPad or Mac).
Kindle is not supported.
Still not convinced?
Read the table of contents below to see all the cool information you will receive.
Good luck launching your new business. And if you need help, I still consult.
Best regards,
Bruce Miller


$9.99| ePub Book:  For iPad
(How to buy Apple Books with your iOS app)


SALE  $14.95  $9.99| ePub Book:  For iPad and Android tablet, and Windows PC
How to buy books on Google for Android, iOS, and PC


$45.00 | Print Book:  244 pages | Full-color, large format book
(Kindle not available)
Recent Reviews
Click to expand
"One of the most unique books about brand that I have ever come across."
"As a marketing professional of 20 years, I think Brand Story is one of the most unique books about brand that I have ever come across. Instead of a typical book about branding filled with theories and idealizations, Bruce shares entertaining stories with wit and subtle humor about real-life examples of brands throughout the 20th century. Relying on rich story-telling, he "shows me" rather than "tells me" what goes into a successful brand. Before reading the book, I wondered about the purpose of the old-fashioned cinema on the cover, but it made complete sense after getting through just a few pages. Filled with vibrant, illuminating visuals, this easy-to-read book is a fun, entertaining, page-turning experience that will make you feel like you're at the movies watching a great documentary about American culture. Oh yeah, and you'll also learn a whole lot about branding and what you need to do to position your company, too, without even realizing it! I realized, too late, that all that was missing in my experience was a bag of popcorn. Oh well, I'm sure I'll read it again. If you really want to make your company successful, you've got to read this book."
C.M | Director of Content Strategy at Healthcare Tech firm
"Brand stories are real stories ...a compelling read."
"Bruce writes with a compelling and accessible style, drawing in readers through the theme of his book: stories. He leads the reader to his thesis of the best way to sell a brand is through its story, from the tiniest of pressure washing businesses to large corporations. The book is filled with entertaining snippets of the backstories behind brands, concluding in a few in-depth interviews with business owners. The book has a dynamic and fun layout, excellent visuals, and clean design, including thought-provoking activities scattered throughout, to engage the reader. The focus on logos and visual was especially interesting to me, as an illustrator. Ultimately, Bruce reminds us that people are at the heart of brands and their stories: "A story is the smallest unit of emotional transformation." Highly recommend for anyone building a brand or just interested in a good story."
C.M. | Freelance Illustrator, Assistant Professor of Art at Georgia Gwinnett College
"This is f**king amazing!"
"We are right now, this moment, rebuilding our tired old website.  I will pay for ten copies of this when it comes out, as I spent all night reading it from cover to cover.
You have done an absolutely terrific job here.
IT IS AWESOME! Truly."
B.G. | Managing Director Venture Capital Fund
TABLE OF CONTENTS:
Everything you need to launch or grow your brand
INTRODUCTION:
The improbable path by which the author became a successful brand strategist.
01 IN THE MOOD FOR COFFEE?
How successful brands pull you off the freeway for a cup of java through the power of association.
02 BRAND POSITIONING: A BRIEF HISTORY:
Fifty years ago, David Ogilvy, a door-to-door stove salesman changed the advertising industry forever by introducing the art of brand positioning.
03 REVERSING SPACE:
Learn to connect with your customers without expensive market research: Learn from Steve Jobs on how to put the customer experience first.
04 THE BRAND STORY WORKSHOP:
Follow the step-by-step Brand Story process to position your product to stand out in the market.
05 THE NAME GAME:
More science than art, how to select the perfect name — even when every domain name is taken..
06 ON YOUR MARKS, TRADEMARK!
When to apply for a trademark —  and how to do it without a lawyer. I consulted with a top Atlanta TM lawyer to save you hundreds of dollars.
07 CREATE A LOVE RELATIONSHIP WITH CUSTOMERS:
Build customer relationships that go the distance with a 10-part Brand Story platform: 1. Brand Concept, 2. Brand Character, 3. Brand Promise, 4. Brand Vision, 5. Brand Look, and more.
08 THE ELEVATOR PITCH:
How a game-changing pitch in a Silicon Valley men's room launched a career in clean technology. Create a 3-minute pitch that will guide your Website, sales collateral, advertising, and brand messaging.
09 LOOK AND FEEL:
The failsafe approach to build a credible look. Use Pinterest to create a creative brief to guide overseas design talent.
10 POSITIONING NON-PROFITS:
Discover how a day shelter for people with brain-injuries landed a $100,000 grant. Learn how to position your non-profit brand for major donors.
11 TOUCHPOINTS:
Build a universe of marketing touchpoints (Web, print, social, presence, advertising, etc.) that leverage your brand story for viral impact.
12 BRAND STORIES:
Learn from four compelling startup stories: We talk to the founders of Thrive Farmers, Sara Anderson, Form Yoga, and Klickly.
13 THE ROLLERCOASTER OF RISK:
Discover how to keep your idea moving forward despite the inevitable setbacks and risks when launching a startup.